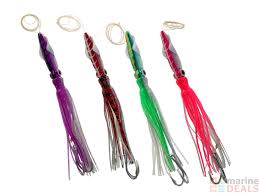 Squidwings jig 200gm
SKU:
Working on the premise that almost all fish eat squid, Catch® set about designing a lure that could be used by shore based or boat anglers. The secret is in the design of the wings, given the lure stability and an awesome action that fish find irresistible when cast, trolled or slow jigged. Additionally, we have included glow in the dark paint, holographic, and glitter, combined with super strong hooks to make this the ultimate lure for catching fish.
200 gram Squidwings has a Teflon tube running through the centre of the lure, comes rigged with 100lb high abrasion mono and stainless steel 4/0 double hooks. It has been proven to be a highly effective lure when trolling for kingfish and tuna.
The Squidwings 200G is extensively tested and used by fishing professionals.
Free standard postage within australia